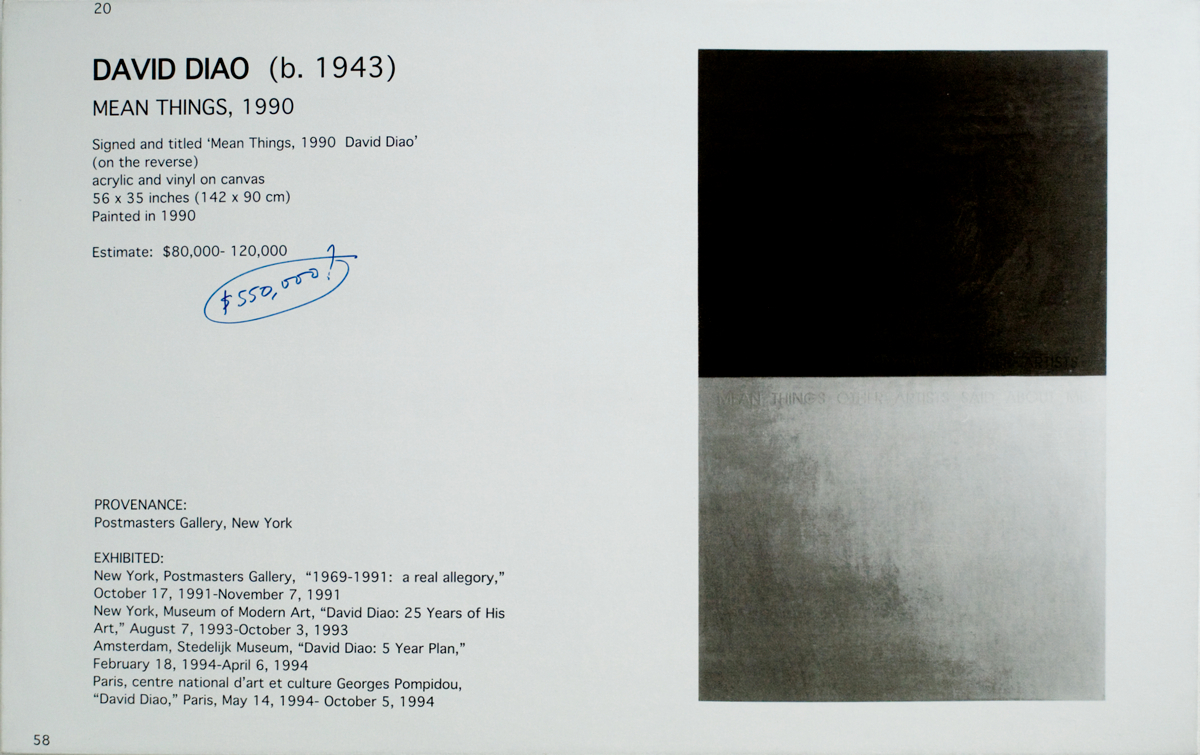 David Diao, Auction Record, (2011)
One imagines David Diao's not-quite retrospective at Postmasters, the gallery's last in its Chelsea space, accompanied by a catalogue essay titled 'Painting and the Task of Melancholy'. Academic types, of which Diao is one, will recognize that title as a play on art historian Yves-Alain Bois's now canonic 1986 essay, where 'mourning' stands in place of 'melancholy' and in which painting's 'death', of that of it as a coherent medium, has been assumed. Those same types will go racking their heads for Freud's distinction between the two concepts—hint: in mourning, one works through the loss of something; in melancholy, one fails to work through this loss because one doesn't know, is not conscious of, what it is that was really lost. In mourning we grieve, but we get over it, by working through the grief; in melancholy, we can't work through it, so we circle it, over and over and over again.
Diao has been active since the late sixties, when he gained recognition for the kind of rigorous procedural abstraction that Robert Ryman (a hero of Bois's) had staked out earlier in the decade. But Barnett Newman is the artist's hero, and here homage is paid by the recent Spine 1 (2013), a screen print of the cracked spine of a Newman catalogue that has been in the artist's personal library for decades—it runs down the center of the painting's large acrylic field just like one of Newman's zips. Newman appears again in Twice Hammered (2011), where one finds the reproduction of Diao's earlier Barnett Newman: The Paintings (1990; for which Diao presents all of Newman's paintings at small scale and reduced to the shapes of their canvases) next to that work's accompanying catalogue entry from a May 2005 Christie's Hong Kong 20th Century Chinese and Asian Contemporary Art sale. The work was estimated at $40,000-60,000 (HKD) and 'hammered' down at $7000, at least that is what is penciled in on the page. 'Ouch', one thinks, but then remembers the exchange rate; and in 2005, $7000 USD would net one roughly $54,500 HKD, well within the estimate, and so, depending upon your perspective, either a tragedy or a steal.
It is exactly this question of worth and value—not just what Diao's paintings are worth on the market (see Sales, 1991, which catalogues the artist's auction record), nor how they are valued by one of the art world's reigning investment banks (see Double Rejection 1 (MoMA Boardroom), 2012, which reproduces a work that no longer hangs in the museum's innermost sanctum), but also how the artist conceives of his own value in relationship to the history he himself values (see Salon 2, 2011, which juxtaposes a photograph of Diao reclining in a Barcelona chair at Philip Johnson's Glass House with one of Philip Johnson himself, Andy Warhol, Robert A. M. Stern, and others in that same exact spot)—that is at the center of Diao's practice as a painter. One would even say he circles it, over and over and over. Melancholics of this order are sometimes tough to bear. But after a time—forty years, say—their endurance can only be called heroic.
From ArtReview May 2013
Julian Schnabel, The Patients and the Doctors, 1978; installation at Oko, 2013
It's hard to divorce Julian Schnabel from context. Indeed context is both the curse and blessing that has come to define the artist's work and career over the last 35 years. That barrel chest! That hair! Those pajamas! Celeb friends! Montauk! West Village palazzo! Great films! Mary Boone! That hair! Those paintings… Here the exclamation tends to either the terrible or the wonderful, but rarely anything in between.
What was it about those paintings that made them so infamous at that moment in New York during the late 1970s and early 1980s when, as so many artists and their critics have noted, the tectonic plates of culture (pun intended) felt like they were cracking up to swallow whole the gains (or losses) of the prior 20 years, not to mention the historical memory of the pre-Second World War avant-gardes? Wasn't painting dead? Hadn't its inherent humanism and its private language of subjective investment been shown to be obsolete if not morally bankrupt? And who is this asshole with the hair that isn't reading Craig Owens and getting in line like everyone else?
A few decades on and this language of critique does feel, for better or worse, like it has run out of steam. What better time then to put up some of those notorious early paintings, direct from The Painter's private collection. And who better to organise the affair than Alison Gingeras, house curator to Amalia Dayan and Daniella Luxembourg's uptown shop, which has underwritten the East Village storefront, Oko, where one work from each of Schnabel's early series – St Sebastian – Born in 1951 (1975-9); The Patients and the Doctors (1978); Mutant King (1981); Abstract Painting on Blue Velvet (1980) – is on view in two-week stints. Context strikes again.
But oh, that painting! Dumb luck – or, because the rhetoric matters in such cases, 'divine providence' – gave to us to see The Patients and the Doctors, one of the notorious plate paintings that Schnabel exhibited in his first solo show at Mary Boone's Soho space in 1979. It's big. So big in Oko's little space that, like some aesthetic bear hug, you can't break away from it. Surprisingly, though, it's less gestural, less expressionist and muscular than all of the history book deflations would have one believe. Breaking the plates and placing all of those ceramic shards must have been a chore. The archaeological implications are not unwarranted, but this is backyard archaeology, the way a twelve-year-old might do it (didn't you want to play with something called 'Bondo' when you were a kid?). The figures are more drawn than painted, clumsily sketched in over the work's jagged 3-D surface, as if St. Sebastian's body from the prior painting had been jettisoned but the scars retained. And, finally, that play between two-dimensions and three, specifically where one of those figures overlaps the work's two major levels, is facile.
And yet, there's all that context, equally embedded in this painting's surface, equally part of its work, be it blessing or curse.
Published in ArtReview, April 2013
Hilary Berseth, Programmed Hive #7 (2008)
Drawing and sculpture share an inherent affinity, which on first glance has to do with their capacities for capturing space and holding it. Julio González synthesised this affinity in a single, and singular, practice. Artists such as Richard Serra cold roll it. Hilary Berseth is peeling back a fold of that affinity, perhaps by de-synthesising, or decomposing it, and showing us new distillations and combinations, and how such an affinity may not be 'elective' after all. The electrochemical sculptures, in which copper and nickel grow tumorous organo-crystalline forms at their edges, hook sculpture's hard, dead materials – in Berseth's hands: metal, plaster, concrete – back up to its élan vital. Think Brancusi's Bird in Space (1923) for an age whose main metaphor is no longer the machine but the network, the lattice, and their infinite complexities. There is order in this chaos, however, as witnessed in Berseth's early Programmed Hives (2008), wherein honeycombs are built – by the bees no less! – into complex geometries, at once regular and irregular. Berseth's drawings would then almost seem to belong to another artist entirely, until one takes note of their own complex aggregations: the image of a stairwell overlaid with one of a retina, replete with the halo of its optic disc (that is presumably doing the viewing); another of a diorama overlaid by the view one would see from its side of things. And then there are the mathematical models: perfect renderings in graphite on paper that are then backed by steel plating and mounted in three dimensions—model and copy in one. 'To draw in space,' is how Gonzalez described 'this new art' forged from 'points in the infinite' (he was speaking of stellar constellations). Berseth knows what he means.

Published in ArtReview, March 2013
Terry Smith's credentials when it comes to thinking anything that comes after the modifier 'contemporary' are second to none.  With a number of articles in heavy-hitting, establishment journals, and a suite of books that he has either authored or edited, Smith has, of late, staked good claim to being the foremost surveyor of our contemporaneity, at least as it appears within the territories, occupied and otherwise, of visual art.
When Smith turns his mind to 'thinking contemporary curating', then, as he has in this inaugural volume for Independent Curators International's new series, Perspectives in Curating, interested parties ­– foremost curators – but really anyone with a curiosity about contemporaneity itself, or in Smith's take on it, would do well to pay attention.  After all, 'curating', whatever this might be, however it might be thought, is a staple practice of what we might as well call the 'cultural logic' of contemporaneity. The past thirty years have seen increasing emphasis and pressure placed on the practice and language of curating, and the past ten have pushed this practice and language to the point of oblivion. So Smith's asking 'What is contemporary curatorial thought?' belies more than just a desire to survey the state of curating today (which, it should be said, Smith does masterfully); it is an attempt on Smith's part to theorize 'contemporaneity' itself.
The problem is, as much as he might like to be, Smith is not emerging as the thinker who will do for 'contemporaneity' what Frederic Jameson did for 'postmodernism' (or 'modernism' for that matter). It's not enough for Smith to peg his favoured concept as the 'the multiple and various ways of being in time today, contemporaneously', however quasi-Heideggarian this may sound.
Smith is better as an historian of contemporary art – that is, to say it again, as a 'surveyor'. In that role, he has gamely named three major 'currents' in the art of the recent past: 'remodernist, retro-sensationalist, and spectacularist' (aka Anglo-American or auction-house contemporary) art is one, the art of 'transnational transitionality' (aka post-colonial biennial art) is another, and the rise of a 'small-scale, interactive, DIY art' (basically everything else) is the last.  Take them or leave them, these are useful ways of apprehending the expanding, unruly garden of contemporary artistic practice. And because this is a book on curtaing, each of these currents gets its patron curator: Kirk Vernadoe, Okwui Enwezor, and Nicolas Bourriaud (though Smith never addresses how 'relational aesthetics', a favorite of both currents one and two, lines-up with the DIY phenomenon that comprises current three). Smith's ultimate point here is to note that what these curators (and the many others he mentions) do comes 'before' what critics and historians (like him) do.  Curators present art, and give that presentation some kind of 'shape' through which the art can come to be understood, and then judged, categorized, and periodized by others.
Yet all of the ways that Smith understands the practice of art and curating, let alone of writing history and criticism, either confuse the period of 'contemporaneity' with its temporality or disregard it altogether. It's as if one can 'think [the] contemporary' or 'think curating' but can't think the two together. For example, when Smith offers this nicely reduced way of describing what curating should do, which is 'to find the figure that is inherent in that which is to be exhibited, a configuration that will shape the flow of movement through the exhibition, a pathway that will carry the spectator's experience, until we reach the reconfiguration – the exhibitionary act – that, in doing these things, opens art to be seen,' what makes this act of curating particularly, or even definitively, 'contemporary'? And when Smith distills his curatorial prescriptions into the following slogans: 'Exhibit art's work. Renounce reticence. Curate reflexively. Build research capacity. Articulate curatorial thinking. Archive the achievements. Reinvent exhibition formats. Turn the exhibitionary complex. Proliferate alternative exhibitionary venues. Activate infrastructure. Embrace spectatorship. Curate contemporaneity in art and society – past, present, and to come – critically,' he begs the very question of contemporaneity (as period? as temporality?) that is meant to ground his slogans, indeed his book, deep within the stakes of curatorial thought itself.
Published in ArtReview, January/February 2013
Diana Thater, Chernobyl (2010); installation, David Zwirner Gallery, 2012
'Postapocalyptic' deserves retirement. It's had a long, hard-working life, and yet still doesn't complain when it's called up to pull the deadweight of descriptive laziness and capitulations to cliché. Take your pick of the ruined, the abandoned, the murdered land, but apocalypse will never make a genuine appearance on earth. As a concept, it's total. Whereas our human imaginations are merely regional: we kill ourselves by the square foot, never all at once. Which is why nothing comes after the end.
Diana Thater's Chernobyl (2010), installed in David Zwirner's easternmost gallery space on one of the many Sandy-ravaged strips of West Chelsea, reminds us just how limited our imaginations are. Filmed in the 'exclusion zone', a 30-kilometre no-man's-land that rings the 1986 meltdown site, Thater's video reveals a remarkably vibrant sanctuary, filled with plants and animals, all undoubtedly irradiated, yet all very much alive after a generation or two or three. Centred on the wreckage of an old theatre in Pripyat, the company town whose onetime residents managed and cared for the reactor, Thater's installation recreates the geometries of the theatre's walls and gives us a panoramic loop that changes like Chernobyl's diminished seasons.
The point of Thater's piece is not to draw us once again into the depths of self-hatred whenever the subject of nuclear power and its ecological disasters are broached (though it does that too). Instead, its designs are on time itself, and the fact that it doesn't 'pass' (another cliché) but is 'lived' and lived in. The zone around Chernobyl is occupied by much wildlife, including, amazingly, horses, specifically Przewalskis, the last surviving subspecies of wild horses, which were introduced to the area because only there could they exist relatively undisturbed by humans. There are people too. Mortuary workers who care for the remains of the dead – actually, only half-dead – nuclear hulk and its burial ground.
'Half-dead' may not be right either. Plutonium-239 decays at a rate of 50 percent every 24,000 years. That's a stability no human civilisation can hope to achieve (the Holocene itself only dates to about a 21 percent drawdown of the isotope). The cesium in the ground, which was meant to disappear after only 60 years, looks to be taking five times longer. These are historical scales and geological scales, both human and inhuman, and Thater's video implicates them in their invisibility, just as a shot of the moon rising over a statue of Lenin in the video's opening sequence implicates the ideology – equally invisible – that has irradiated us all.
Published in ArtReview, January/February 2013
1961: Lem's Solaris; 1962: Dick's The Man in the High Castle; 1963: Vonnegut's Cat's Cradle; 1965: Herbert's Dune; 1966: Heinlein's The Moon Is a Harsh Mistress; 1967: Zelazny's Lord of Light; 1968: Clarke's 2001: A Space Odyssey and Dick's Do Androids Dream of Electric Sheep?; 1969: Le Guin's The Left Hand of Darkness…
The 1960s were a golden age for science fiction, though as the list above would indicate, it was a a bit more golden for men than for women. Le Guin was, and is, the rare pathbreaker, in the literature and in thought. The Left Hand of Darkness was not feminist SF. It did, and does, what we expect of all great literature, and that's to pry our minds free of convention. That Le Guin did this via the invention of an androgyne race won it the feminist label, but we can see now that it was an early stab at the kind of hybridity that Donna Haraway would flesh out 15 years later.
Kiki Kogelnik (who passed away in 1997) deserves a big place in this discussion. An émigré on the run from Vienna at the moment, in 1964, when Actionism set up its mud-and-blood-wrestling matches as vehicles of sociosexual liberation, Kogelnik took up in New York and quickly fell in with the Pop set – primarily Lichtenstein, and Oldenburg, whose early love for goopy objects echoed the Actionists's love of bodily fluids. But the image reigned in New York, and so Kogelnik's images, of bodies mostly, were rendered flat and graphic, yet always still with an inside, and always as something more or less than human.
Using medical stamps of heads (in profile, or head-on with chins raised to emphasise the throat), legs and women's torsos, and silhouettes of figures made from spraypainting over the edges of cutouts, Kogelnik, like Warhol, mechanised and automated the otherwise authorial, indexical trace. If Warhol wanted to be a machine, Kogelnik wanted to be a robot, a different kind of incorporation entirely. Her works on paper, such as Robots (1966) or Untitled (Robots) (c. 1967), show cut-and-quartered bodies getting wired together as if coming off an outer world assembly line. The paintings Outer Space (1964) and Atmospheric Drag on Satellite (1965) show what the dream life of such beings might be.
Kogelnik's greatest affinity might be with Paul Thek, whose Technological Reliquaries from the mid-1960s exhibit similar obsessions with impossible bodily hybridities and a kind of cyborg mindedness. But Kogelnik's work is less disaster-laden, less anxiety-ridden and allegorical with regard to sexuality. The figure in The Human Touch (c. 1965), whose head is disjointed from its body and perfectly circular, is ecstatic, a secular St Teresa for our robotic age – it's a label that could apply to Kogelnik as well.
Upcoming in ArtReview's December 2012 issue.
Massimiliano Gioni and Gary Carrion-Murayari's techno-aesthetic 'cabinet of curiosities' is the latest in a line of near-eccentric (as near as the general conservatism of New York's museums can muster) New Museum exhibitions that take on big themes with big numbers and only limited respect for convention – Ostalgia (2011), After Nature (2009), Unmonumental (2008) being the others. But with Ghosts in the Machine, a show ostensibly about the 'dream-like life' that we share with our technology, it is exhibition making itself more than any rapturous engagement with our ever-evolving machine age that is on display.
The phrase 'dream-like life' belongs to (the currently modish) Richard Hamilton, whose exhibition Man, Machine and Motion from 1955 is both an inspiration and has been recreated here. A large lattice bearing archival images of humans on the move – in the air, through the water, over ground – and the bits of technical apparatus they have used to help them on their way, Hamilton's installation offers an early example of the archive fever that gripped his own Independent Group and other artists of the early post-Second World War period, most notably J.G. Ballard, who is represented here by a suite of early spreads from Ambit magazine.
Gioni and Carrion-Murayari pay homage to other more and less well known curatorial forays into the always uneasy marriage of art and technology: Bruno Munari and Umberto Eco's Olivetti-sponsored Arte Programmata (1962); William Seitz's The Responsive Eye (1965, MoMA); Willoughby Sharp's Kinetic and Programmed Art (1966, RISD; parts of which have been recreated for Ghosts…); K.G. Pontus Hultén's The Machine as Seen at the End of the Mechanical Age (1968, MoMA); Jasia Reichardt's Cybernetic Serendipity (1968, ICA); Maurice Tuchman's Art and Technology (1970, LACMA); and Harald Szeemann's Bachelor Machines (1975–7, various locations).
In this field, Stan VanDerBeek's Movie-Drome (1963–5), installed on the museum's fifth floor, looks less like an experiment in 'expanded cinema' and more like an early lesson in moving-image curating. But where, one wonders, is Billy Klüver, Robert Rauschenberg, Fred Waldhauer and Robert Whitman's E.A.T. (Experiments in Art and Technology), launched via the art and engineering collaborations of 9 Evenings (1966)? Perhaps given E.A.T.'s tepid reception, both at the time and in more recent histories of the period, Gioni and Carrion-Murayari didn't want to diminish the cred of their idols.
That the most affecting work in Ghosts isn't a conventional 'artwork' at all, either official or outsider, but an unattributed reconstruction of the malign sentencing apparatus from Kafka's 'In the Penal Colony' (1919) that was specially produced for Szeemann's Bachelor Machines show, goes to the high level of curatorial self-regard at work here. But it also speaks to the trouble with the genre of the 'art and technology' exhibition in general, which is the fact that it is a genre, like genre fiction, SF or fantasy in particular. No matter how philosophically pungent the ideas or how contorted the manipulations of form, the art has to stand or fall on its own, which is why Ghosts… remains more curiosity than show.
SPACE PROGRAM (2007-2012), which the artist Tom Sachs and his studio first introduced at the Gagosian Gallery in Los Angeles, serves as a kind of magnum opus of the DIY and tinker-type workshopping of iconic examples of architecture, design and engineering that Sachs has made his own since the early 1990s. In that 2007 iteration, Sachs 'sent' astronauts—both women—to the moon via an armory of mock-NASA equipment, such as landers and life support systems and other bits of apparatus more or less connected to the project of exploring Earth's only natural satellite—an example of 'more' would be the life-sized recreation of NASA's Apollo 11 Lunar Module (2007); an example of 'less' would be the NASA Champagne Fridge (2007) and the store of Jack Daniels and Marlboroughs that were on hand as the astronauts' dietary staples. This May and June, in conjunction with Creative Time and The Park Avenue Armory, Sachs and his team are doing it again, only this time the astronauts are heading to Mars.
Tom Sachs, SPACE PROGRAM: MARS, Park Avenue Armory, 2012
Anyone who visited Sachs's studio prior to the Mars mission this spring took their turn at the ID Station (2010), which produced for them and for the studio a photo ID, replete with NASA's Jet Propulsion Laboratory (JPL) logo. Other than one's name, the ID required giving two other pieces of information, which consisted of answers to two questions: "Have you seen 10 Bullets"? And "Have you seen COLOR"?
10 Bullets (2010) and Color (2011) are the first two films of a trilogy (the tentative title of the third is Materials and Methods) that Sachs has produced in conjunction with assistants John Ferguson and Van Neistat. At bottom, they are instructional films for people who work, or want to work, in Sachs's studio. The lesson of 10 Bullets is how to 'work to Code'.  Indeed, the ten bullets, as in bullet points (illustrated in the film as hand-drawn rounds of ammunition) comprise 'the Code' itself, which instructs one to do such things as 'keep a list' (bullet seven); to use the phrase 'I understand' (bullet five) when confirming instructions; to 'sacrifice to Leatherface' (bullet nine), i.e. to pay a fine into a lock box adorned by a figurine of the villain of the cult horror flick A Texas Chainsaw Massacre when failing to adhere to the studio's safety or security procedures—that is, when failing to 'work to Code'; to always 'work to Code' (bullet one) because 'creativity is the enemy' (Sachs's own credo); and to 'always be Knolling' (bullet eight).  If you don't know what Knolling is, watch the film.
Color follows 10 Bullets' lead. Its purpose is to indoctrinate viewers into the studio's highly standardized color palette, which is based upon the the many found objects and images and repurposed materials that have made their way into the studio's work over the years.  So, for example, the studio's white is drawn from, among other things, copy paper white, foamcore white, and Tyvek-suit white, which, in terms of paint, translates to Benjamin Moore Decorator's White or Krylon Glossy White; the studio's yellow is McDonald's Golden Arches yellow (Golden Acrylics C.P. Cadmium Yellow Medium #1130-6 Series 7) or Kodak film packaging yellow (Golden Acrylics Diarylide Yellow 1147-6 Series 6); blue is Gulf Porsche blue, Tiffany blue, or New York Police Department barricade blue (according to the studio, the NASA logo's PMS 286 blue is 'dopey', so the studio instead uses Benjamin Moore Impervex Latex High Gloss Metal and Wood Enamel Classic Navy 309 35); and purple…well purple is 'forbidden, purple is punishable by death, there is never an excuse for the colour purple'.
The tone, as one might guess, is mock-serious, though with an emphasis on the second half of that hyphenation. The authority of the studio, of the 'Code' and its colour palette, are at every point affirmed without equivocation. The sense one gets is that there is an 'inside' to the studio, a Code that is not easily cracked from the outside. More than merely a workplace, it's a commitment, both to a way of working and to an aesthetic, to a way of working as an aesthetic. In the face of all the attention that gets paid to 'post-studio' art practices, Ten Bullets and Color unabashedly attest to the power and importance of the studio itself, but the studio understood as the embodiment of a rigorous system and social rationale, one in which the words 'creativity is the enemy' can be willingly embraced because everyone (who knows how to work to Code) understands that individual creativity, in the form of the impromptu choice, the undisciplined decision, is indeed the enemy of collective creation.
It is with this perspective in mind that we might see how Sachs's SPACE PROGRAM, in both its Lunar and Martian iterations, can be understood as both self-reflexive and allegorical of the studio as well.  It is self-reflexive insofar as what the SPACE PROGRAM reproduces, in its simulations of all of those highly choreographed yet quotidian routines that receive such fanfare when they are broadcast live (on TV) and later dramatized (in books and movies)—from donning space suits and eating dinner to collecting rock and soil samples (which consisted, in LA, of drilling into and digging up Gagosian's highly polished concrete floor)—is the seamless functioning of the studio, the assigning, monitoring, and carrying out of operations on a check list (bullet seven!) by people—and this is important—not just with training and expertise to perform those operations but who are also individually committed to, and so hold themselves responsible for, seeing them through. The many 'stations' of the Mars mission, from the RBR: Red Beans and Rice Station (2011) to the HNDS: Hot Nuts Delivery System (2011), to the Biology Lab (2011; which is growing poppies for a Martian heroin harvest), to the Bike Station (2011-2012) and Repair Station (2006-2010) are just so many reflections of the 'sacred space' (bullet two!) of the studio—the 'shop, office, welding booth, bunker, and kitchen'—so soberly detailed in 10 Bullets.
The SPACE PROGRAM is allegorical because if it represents anything at all, it is this idea of commitment to a goal, this fidelity to a shared aim, to a target as distinct from a telos. Let me explain: Early in his book Targets of Opportunity (2005), Samuel Weber builds on a 'terminological distinction', first addressed by the philosopher Jean-Luc Nancy, between two senses of 'end': telos and skopos.  Where telos is understood as the 'fulfilment of an action or process', skopos is the 'target that one has in one's sights and at which one takes aim; it is the goal presently and clearly offered to an intention…Skopos is the draw of the bow, telos, life and death.'  The metaphorical reach of skopos is important here, connecting as it does the implicit violence of targeting with the technological projection of our conscious attention ('intentionality', in the language of the philosophical phenomenology in which Nancy was schooled).  'Skopos is already, tendentially, the tele-scope', Weber writes, 'since "the one who aims" is also "the one who surveys." To survey, in this sense, is to command at a distance.'
However else we want to characterize research missions that land men on the moon and rovers on Mars, we must recognize that even our limited 'surveys' of these other worlds are bound up with a ballistic sort of 'scopic' knowledge that traces its genealogy according to Nancy's metaphorical 'draw of the bow'.  What else is Curiosity, the Mars rover that is currently hurtling through space towards its target at 12,000 miles per hour, than the tip of the arrow?  Why else would the engineers on the Entry, Decent, and Landing (EDL) team at JPL, for which Sachs designed the mission patch and served as the unofficial artist in residence, refer to these three final phases of Curiosity's flight as 'Six Minutes of Terror'? (Those six minutes will unfold in real time this coming August when Curiosity hits the Martian atmosphere.)  Or for that matter, what possible reason would the astronauts on the SPACE PROGRAM lunar mission in 2007 have for securing their landing site with DIY shotguns (Lem: ATF: MSA: Shotgun , 12 gauge, Breech-loading, handmade, 2007)? And why would the astronauts on the Mars mission need a mortar (Mortar, 2011)?
Because everywhere in Sachs's work, targets abound. Despite betraying some boyhood fascinations with militarized gear, and beyond all of its tongue-in-cheek fetishising of the arch seriousness of the military-industrial-academic-research complex, Sachs's SPACE PROGRAM is just this targeting writ large—not quite as large as NASA or JPL and the 'general intellect' of which they are the cutting edge, but large enough to stand for it, to represent it, allegorically as it were.
The one bit of 'equipment' that stands out in this respect, both because of what it stands for and how out of place it is within the panoply of stations destined for Mars, is the Tea House (2011-12), a full-scale building (Sachs's first ever since abandoning architecture to become an artist) designed to accommodate traditional Japanese tea ceremonies. The form of that ceremony (exactingly detailed, as with all of the SPACE PROGRAM's procedures, in a set of accompanying instructions) distils the PROGRAM's and the studio's targeting ethos. For as ritualized as the choreography of the tea ceremony may be, it is a dance that depends entirely upon subtle yet instrumental moments of feedback between host and guest(s). Every action—the quarter-clockwise turn of the tea bowl, the laying down of the tea scoop (bullet eight: always be Knolling!)—is also a cue for some subsequent action, such that all the players in the ceremony are highly attuned to and tracking—targeting—one another. They are bound together in a collective project, and the ceremony, the ritual, the Code does the binding. It is in this sense that the tea ceremony—like the SPACE PROGRAM; like the studio—is not teleological. The point is not to fulfil it, to get to its end. It is scopic. The point is to see, to survey, to attend, to target—to always, always, work to Code.
This piece is from the summer 2012 issue of ArtReview.
'Hunt for serial rapist'. 'Jet bomb plotter jailed'. 'Man, 81, dies in blaze'. 'Teen gunman caged'. 'Pair accused of boys torture'. 'Royal gay sex blackmail plot'. 'Evil woman stalker jailed'. 'Mum killed tot with pills'. 'Junkie murderer attacked 100-year-old woman'. 'Bullied girl, 15, stabbed in head'. 'Sex beast attacks woman in her home'. 'Man died after sex act "went wrong"'. 'Cricket coach strangler mystery'. 'Woman missing on date is dead'. 'Drugs batch laced with glass'. 'Hackney girl killed by heroin'. 'Elderly die alone: shock figures'. 'Play portrays Jesus as drunk womaniser'. 'Man goes mising [sic] at shopping centre'.
One could—and indeed Gilbert & George's new London Pictures, 262 of the pair's signature multi-panelled prints, these reproducing London tabloid newspaper posters, do—go on.  But why? Because of their self-professed love for and obsession with East London, the city and the area that the two have made their home and workplace since emerging from St. Martin's College in the late-60s? Because we, the innocent audience, keepers of our own dark urges and perversions, need to be confronted with this textual cataloguing of human cruelty and pain? Because the poetics of the tabloid headline just haven't been given their due? Because isn't life just misery, and it's oh so nice to be reminded that it's likely more miserable for someone else, like that Hackney girl, or that Cricket coach, or Jesus?
Gilbert and George, Girl, from The London Pictures, 2011
With no offense to London, what Gilbert & George's London Pictures are is tiresome at best and cynical at worst.  After a career predicated upon needling the soft flesh of perceived social refinement, including aping the latter with their own arch politesse, what the pair have served up is one giant finger wag (Tssk Tssk!). The London Pictures no more make art out of the abyss of humanity, which the artists claim could always be found right outside their Spitalfields' studio door, than Glenn Beck makes programming aimed mobilizing the global Left. Like Beck, though, Gilbert & George have perfected the camera-ready glower; and in these pictures, it's made all the more goofily sinister by what looks like too much television makeup and the pair's overly whitened–i.e. bloodless–eyes. In the past, the artists' self-portraits were gestures at their own implication within the great social carnival; within the London pictures, they look like spectres of self-righteousness.
What are we to take away from it all? From the murders and rapes and hangings and stabbings and beatings and burglaries, from the boys and girls and men and women and drunks and thugs and playboys and police? Is this London? Is this humanity? No doubt it is. Then how should one respond? Exactly as one is expected to when confronted with the gruesome headline or shocking tabloid poster.  Utter "What the fuck?", and move on.
From the Summer 2012 issue of ArtReview.
Brice Marden's 'new paintings' – one series of compositions in oil and graphite on fragmented slabs of marble and another series of nine modestly sized monochrome canvases – are not so much paintings as exercises, the kind of thing (good) painters do when trying to shake out old habits and awaken some dormant muscles. In the case of the monochromes, Marden is doing memory work.Marden painted the nine canvases that make up the Ru Ware Project (2007–12), each one a subtly differentiated shade of grey or blue or beige, from his memory of the glazing on this rare Song Dynasty pottery, an exhibition of which he saw in Taipei in 2007. In the case of the marble works, Marden is testing his mettle against grounds that are already rich with incident.
Brice Marden, Years 2, 2011; Matthew Marks Gallery
But how can a painter compete with marble? Since antiquity at least, imitating it has been the challenge. The tromp l'oeil vistas that once dissolved the villa walls of Pompeii offer good examples of the way the spider-veined stone could be conjured from wet plaster and pigment. The latter was cheap compared to the former, hence the patron's motivation and the painter's challenge. Yes, the Ancient Greeks painted their marble statues and temples. But when the stone proved decorative enough on its own, they let it be, just as Adolf Loos and Mies van der Rohe would some 2,000 years later.
It was in the 1980s that Marden, then sojourning in Greece, first decided to substitute canvas for fragments of marble slab. With washes of thinned-out oil, and sometimes thicker linear applications, he turned his painting practice into a conversation with the history of carbonate flow and crystallisation that is revealed in any cross-sectioned bit of the rock. Think of it as painting jump-started by geology. It brings to mind what Gilles Deleuze once wrote about the painter's task being one of excavation, of getting through the layers upon layers of historical precedent that exist in every so-called blank canvas. In other words, no canvas, just like no page, is ever truly blank.
Marden's works from the 1980s, and now this new series, put one in mind of some idyllic art school, a class held in a sun-drenched courtyard with plaster casts and stone fragments laying about. There are the students, taking up their shards of marble for a session on learning to speak the language of liquid materials, the underlying lesson being that, at large enough time scales, stone is liquid too. The task of the day is to mix the two, stone and paint, with their respective times, in order to feel out their balance. And there is Marden, pacing the yard, watching the young time-travellers work. The camera pulls back now, through a window that looks out onto the courtyard, and inside we see a shaded room, where the teacher's own few but successful mixtures line the walls.
From the summer 2012 issue of ArtReview.