Archive for the 'Andy Warhol' tag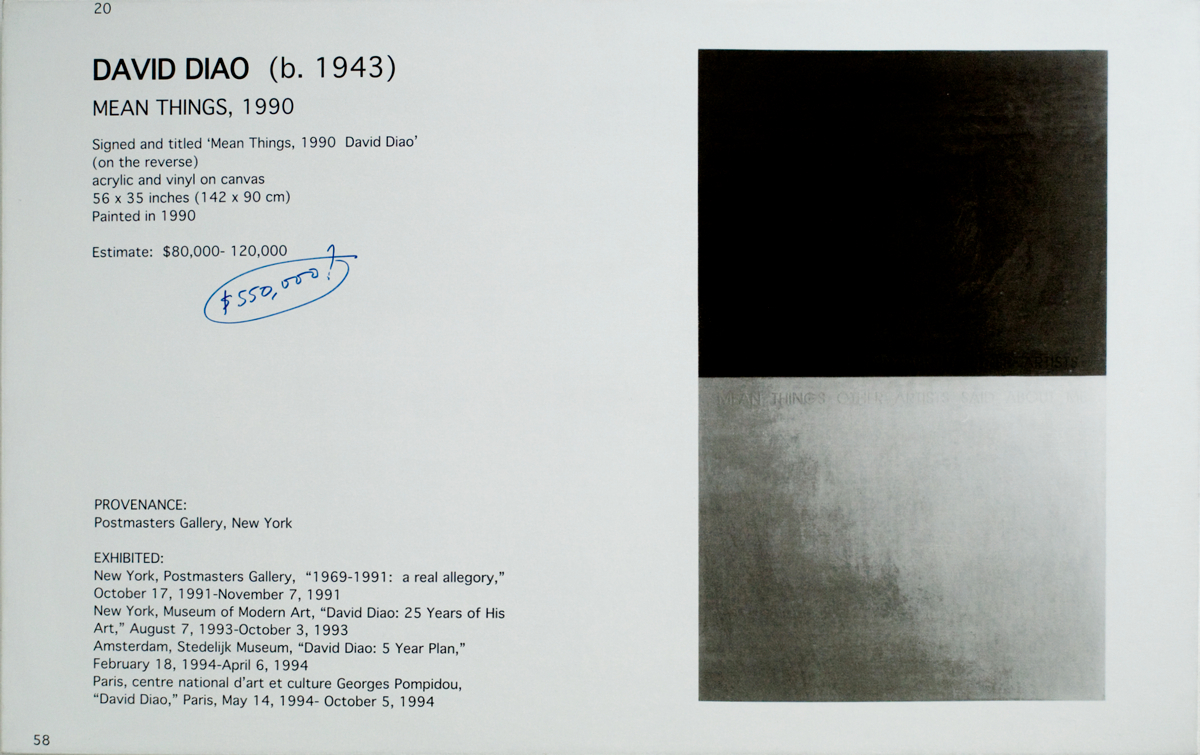 David Diao, Auction Record, (2011)
One imagines David Diao's not-quite retrospective at Postmasters, the gallery's last in its Chelsea space, accompanied by a catalogue essay titled 'Painting and the Task of Melancholy'. Academic types, of which Diao is one, will recognize that title as a play on art historian Yves-Alain Bois's now canonic 1986 essay, where 'mourning' stands in place of 'melancholy' and in which painting's 'death', of that of it as a coherent medium, has been assumed. Those same types will go racking their heads for Freud's distinction between the two concepts—hint: in mourning, one works through the loss of something; in melancholy, one fails to work through this loss because one doesn't know, is not conscious of, what it is that was really lost. In mourning we grieve, but we get over it, by working through the grief; in melancholy, we can't work through it, so we circle it, over and over and over again.
Diao has been active since the late sixties, when he gained recognition for the kind of rigorous procedural abstraction that Robert Ryman (a hero of Bois's) had staked out earlier in the decade. But Barnett Newman is the artist's hero, and here homage is paid by the recent Spine 1 (2013), a screen print of the cracked spine of a Newman catalogue that has been in the artist's personal library for decades—it runs down the center of the painting's large acrylic field just like one of Newman's zips. Newman appears again in Twice Hammered (2011), where one finds the reproduction of Diao's earlier Barnett Newman: The Paintings (1990; for which Diao presents all of Newman's paintings at small scale and reduced to the shapes of their canvases) next to that work's accompanying catalogue entry from a May 2005 Christie's Hong Kong 20th Century Chinese and Asian Contemporary Art sale. The work was estimated at $40,000-60,000 (HKD) and 'hammered' down at $7000, at least that is what is penciled in on the page. 'Ouch', one thinks, but then remembers the exchange rate; and in 2005, $7000 USD would net one roughly $54,500 HKD, well within the estimate, and so, depending upon your perspective, either a tragedy or a steal.
It is exactly this question of worth and value—not just what Diao's paintings are worth on the market (see Sales, 1991, which catalogues the artist's auction record), nor how they are valued by one of the art world's reigning investment banks (see Double Rejection 1 (MoMA Boardroom), 2012, which reproduces a work that no longer hangs in the museum's innermost sanctum), but also how the artist conceives of his own value in relationship to the history he himself values (see Salon 2, 2011, which juxtaposes a photograph of Diao reclining in a Barcelona chair at Philip Johnson's Glass House with one of Philip Johnson himself, Andy Warhol, Robert A. M. Stern, and others in that same exact spot)—that is at the center of Diao's practice as a painter. One would even say he circles it, over and over and over. Melancholics of this order are sometimes tough to bear. But after a time—forty years, say—their endurance can only be called heroic.
From ArtReview May 2013
1961: Lem's Solaris; 1962: Dick's The Man in the High Castle; 1963: Vonnegut's Cat's Cradle; 1965: Herbert's Dune; 1966: Heinlein's The Moon Is a Harsh Mistress; 1967: Zelazny's Lord of Light; 1968: Clarke's 2001: A Space Odyssey and Dick's Do Androids Dream of Electric Sheep?; 1969: Le Guin's The Left Hand of Darkness…
The 1960s were a golden age for science fiction, though as the list above would indicate, it was a a bit more golden for men than for women. Le Guin was, and is, the rare pathbreaker, in the literature and in thought. The Left Hand of Darkness was not feminist SF. It did, and does, what we expect of all great literature, and that's to pry our minds free of convention. That Le Guin did this via the invention of an androgyne race won it the feminist label, but we can see now that it was an early stab at the kind of hybridity that Donna Haraway would flesh out 15 years later.
Kiki Kogelnik (who passed away in 1997) deserves a big place in this discussion. An émigré on the run from Vienna at the moment, in 1964, when Actionism set up its mud-and-blood-wrestling matches as vehicles of sociosexual liberation, Kogelnik took up in New York and quickly fell in with the Pop set – primarily Lichtenstein, and Oldenburg, whose early love for goopy objects echoed the Actionists's love of bodily fluids. But the image reigned in New York, and so Kogelnik's images, of bodies mostly, were rendered flat and graphic, yet always still with an inside, and always as something more or less than human.
Using medical stamps of heads (in profile, or head-on with chins raised to emphasise the throat), legs and women's torsos, and silhouettes of figures made from spraypainting over the edges of cutouts, Kogelnik, like Warhol, mechanised and automated the otherwise authorial, indexical trace. If Warhol wanted to be a machine, Kogelnik wanted to be a robot, a different kind of incorporation entirely. Her works on paper, such as Robots (1966) or Untitled (Robots) (c. 1967), show cut-and-quartered bodies getting wired together as if coming off an outer world assembly line. The paintings Outer Space (1964) and Atmospheric Drag on Satellite (1965) show what the dream life of such beings might be.
Kogelnik's greatest affinity might be with Paul Thek, whose Technological Reliquaries from the mid-1960s exhibit similar obsessions with impossible bodily hybridities and a kind of cyborg mindedness. But Kogelnik's work is less disaster-laden, less anxiety-ridden and allegorical with regard to sexuality. The figure in The Human Touch (c. 1965), whose head is disjointed from its body and perfectly circular, is ecstatic, a secular St Teresa for our robotic age – it's a label that could apply to Kogelnik as well.
Upcoming in ArtReview's December 2012 issue.
Barbara Kruger, "Untitled" (Money makes money), 2011
Cognitive dissonance. It's a cliché by now, a toss-off term used to explain (or to keep from explaining) all sorts of contradictions, hypocrisies, moral and ethical failings, feats of self-loathing, etc. It has become a standard operating principle, the kernel of cynical reason, the delivery mechanism of mental detachment.
And we love it. We can't get enough of it. Harmony is for hippie losers. Dissonance is complex, difficult, dangerous; it's Heidegger in six-inch heels at a rifle range. It's why we love family-guy politicians and the prostitutes they pay for dirty sex. It's why we adore the billionaire record producers that rail against the 1% down at Occupy Wall Street. It's why campus police (at UC Irvine) use pepper spray against peaceful student demonstrators, and why a customer (at Wal-Mart) uses pepper spray against her fellow Black-Friday shoppers. It's why we believe in too-big-to-fail. And yes, it's why we love Art Basel Miami Beach…
Read the rest at Art Agenda.