Archive for the 'Uncategorized' Category
By the time this column is in print, it's quite possible that the record for the most expensive work by a living artist ever sold will have been broken. That record either still does or did belong to Gerhard Richter's Domplatz Mailand(1968), which sold for $37 million just this past May, but Jeff Koons's Balloon Dog (Orange) (1994–2000), with a low-end estimate of $35m and a high of $55m, may now have surpassed it.
What does this mean? Probably very little if we think of purchases like these as the 'trophy hunting' of an exceedingly small capitalist class. Confirming the masses of capital that the very wealthy have available to spend on assets such as art will be news to no one. So why bring it up? Because it is interesting to think about just what kind of assets these works of art are.
Now, to opponents of the term 'asset' being used as a description of works of art: grow up. Even when works of art were not selling for many millions of dollars, they were assets. The works you have traded with other artists or that you have bought, the works that belong to you, that you own – these are assets, pure and simple. The works sitting in public trust in our museums are assets, even if they don't enter into the accounting as such.
Wishing it weren't so, dismissing the language (which is in fact very precise; 'art' is the loose term here) or continuing to trot out classical or eighteenth-century aesthetic theories of art's purity or nonutility are examples of intellectual laziness and blinkered thinking. Art is many things, and an asset is one of them.
What kind of asset is a Koons's Balloon Dog or a Richter painting, then? One definition, whose author I'll withhold for the moment, would hold that they are 'assets that will never produce anything, but that are purchased in the buyer's hope that someone else will pay more for them in the future… This type of investment requires an expanding pool of buyers, who, in turn, are enticed because they believe the buying pool will expand still further. Owners are not inspired by what the asset itself can produce but rather by the belief that others will desire it even more avidly in the future.'
This is a reasonable description of the way we think about works of art, in particular expensive ones like the Richter and the Koons. It could be objected that such works of art, though assets, are not 'investments', strictly speaking. Art, as the economists say, is a 'consumption good'. And these works were bought for no other reason than that they satisfied the buyer. That may be, but remember that both of the works under discussion are in the secondary market.
The Koons was originally sold by Anthony d'Offay to Peter Brant in the late 1990s for a reported $1m as part of the financing of the larger Celebration series, of which Balloon Dog is a part. And the Richter has gone on the block before, at Sotheby's in London back in 1998, where it sold for $3.3m. In other words, these works were bought with some expectation that there would be a 'future' in which 'others' would 'desire' these works even more 'avidly' than before. From the other direction, it could also be objected that these works 'produce' aesthetic experiences for their beholders, or happiness in their owners, or some such. But it beggars belief to think that selling the works at a loss wouldn't find the seller thinking hers was a bad investment.
It's helpful to note that, as the author of the definition above points out, 'the major asset' of this kind is not in fact art but gold, and it is also helpful to point out that the author is Warren Buffett. Buffett of course is one of the most successful and richest investors in the world, all because of 'value investing', which means, in his words, the 'transfer to others of purchasing power now with the reasoned expectation of receiving more purchasing power in the future'. In Buffett's world, this means transferring purchasing power to things like businesses and farmland, investments in entities that produce. Little wonder that Buffett is not an art collector of any note.
But if the asset that art most resembles is gold, the prime motivation for buying it, at least according to Buffett, is fear – fear that capital invested anywhere else, and in currency-backed securities in particular, is a bad bet. Currency is only as good as the credibility of the country that issues it, after all, and when countries such as the US – whose currency is the global reserve – print money to shore up their credit and labour markets, and then threaten to default on their debts, those currencies don't look safe, and so the search for 'harder' assets, less 'scary' ones, begins. You can't print more gold, the theory goes, so it must be safer, just as long as someone else is more scared than you. And it's easier to bet on someone else's fear than it is to bet on your own conviction in the productive value of an investment.
About the buyers of the Richter and the Koons, few will have said that they were or are scared, but in a sense that is what they are, if we take such assets to be 'as good as gold'.
This article was first published in the December 2013 issue of ArtReview.
When I sit down for breakfast with Paul Schimmel, he asks the first question, as if he's conducting the interview and I'm the renowned curator who has recently joined up with one of the world's three or four truly global, powerhouse galleries, and got the original owners to add my name to the shingle – Hauser Wirth & Schimmel – to boot. We're at the Langham Hotel in Pasadena, not far from the Norton Simon Museum or from where Schimmel lives, and once a regular breakfast spot for him and Richard Koshalek, most recently of the Hirshhorn Museum and Sculpture Garden in Washington, DC, but once Schimmel's boss at LA MOCA. I'm in great company. So that question?
"What shows have you seen?"
I'm not surprised. Schimmel lives for making shows. He's been doing it since the 1970s, before arriving at the Newport Harbor Art Museum (now the Orange County Museum of Art) in 1978 from the Contemporary Art Museum, Houston, where he was responsible for American Narrative/Story Art: 1967–77 (1977), which included John Baldessari, Eleanor Antin, William T. Wiley, Ed Ruscha and Allen Ruppersberg, among other artists of, as Schimmel describes them, the "narrative conceptualist" persuasion. That show travelled west, to UC Berkeley and Santa Barbara, and apparently Baldessari was there each step of the way. "John treated me like a curator," Schimmel says. "[He] went to every venue and helped me to get the very best work." And after a stint back in New York at the Institute of Fine Arts and a master's degree, Schimmel said to his wife, "You watch. My first job will be in California." That was Newport, where the museum's holdings of postwar California art grew by a reported 300 percent during Schimmel's tenure.
His second job in California? LA MOCA, which is where, from 1989 until the middle of last year, Schimmel not only mastered the craft of the substantial historical survey – his last show for the museum, which opened in October 2012, Destroy the Picture: Painting the Void, 1949–1962, is a case in point – but also shifted the artworld's (to that point rather moribund) thinking on the history and value – intellectual, aesthetic, commercial – of postwar California art with Under the Big Black Sun: California Art 1974–81 (2011), which tackled the prehistory of 1992's Helter Skelter: LA Art in the 1990s, in many ways that era's and perhaps Schimmel's career-defining exhibition (if such a narrowing of lens is possible).
Why California and why LA? For the art, and the artists. Within months of arriving at Newport, Schimmel met Mike Kelley. His reaction? "I was like, 'Yes! Thank God I don't have to figure out how to invent this person.' This person is here. When you find someone in your own generation who embodies the same kinds of interests, well, I knew this was where I was going to be. And there was no question that doing work deeply committed to the region but with international implications was doable." There's little question that he did it, either. And there's little question that he was able to do it because of his commitment to the community of artists that included Chris Burden and Paul McCarthy, and of course Kelley and others.
When I asked Schimmel whether he thought about quitting LA after MOCA's board forced him out (presumably because he and then-new but now-former MOCA Director Jeffrey Deitch didn't mix well, but Schimmel wouldn't say, and no one else is talking either), and following Kelley's death in 2012, he said yes, he did. He considered New York, and Europe, but in the end he couldn't leave, "not so much because of my own generation", but because of the "younger artists, people like Mark Grotjahn and Thomas Houseago and Sterling Ruby and Laura Owens", and because of that "languorous sense of community" that comes from a "place where you can both make something and show something". "More than anything else," Schimmel said, "it was that sense of being part of a community of younger artists who both believe in and appreciate their community and my place in it."
Someone else appreciated Schimmel's place in that community as well. A few days before we spoke, Schimmel opened Re-View: Onnasch Collection – a survey of Reinhard Onnasch's nearly unparalleled collection of postwar art from the 1950s to the 1970s (including a number of important works by Edward Kienholz from 1960 to 61) – at Hauser & Wirth's Piccadilly and Savile Row spaces in London. As Schimmel tells me, "Iwan [Wirth] was very clever. Long before I joined the staff," – this is one of Schimmel's great gifts: the ability to be modest and self-aggrandising at once – "he put together a list of four or five potential people to work on the show, which he'd been trying to do for a long time. My name was on the list without me knowing it, and Mrs Onnasch said – and I'd worked with the Onnasches on the Out of Actions show, and for the Rauschenberg Combines show, and for Hand-Painted Pop; so at three different times over the last 20 years I'd worked with them; I'm a known quantity – and Mrs Onnasch said, 'Oh yes, that would be good, but I don't think he would do it'. And Iwan says he looked at her and said, 'Oh, you never know'." Indeed you don't, unless you've had the following exchange, as Schimmel told me:
I was opening Under the Big Black Sun and Iwan calls me and asks, "Paul, are you at the Geffen?" I said, "Yeah." He said, "I'm going to be there in five minutes. I want to pick you up." I said, "I'm in the middle of an installation." And he says, "No, no, no. It's just right in the neighbourhood. I want to show you something." I said, "OK, the break's at eleven. So pick me up at eleven." He takes me three, four blocks away, and shows me just a beautiful warehouse space. And he says, "What do you think?" And I say, "I think it's beautiful." And says, "No, really, what do you think?" And I said, "Iwan, no. No. I'm not thinking about it." He says, "OK, what do you think we could do here? What would make sense here?" I said, "Well, things should be very different than the kind of programme you would have in New York and there should be fewer things, bigger, richer, deeper; and don't think about it in terms of how much stuff you can sell here as how much stuff can enter into Hauser & Wirth." And he says, "Exactly."
Of his new partner Schimmel says that, yes, "there is that sort of inscrutable quality of the Swiss, but it's also combined with an overwhelming joy and enthusiasm for things. He's sort of like a California kid", but one who learned about California from Jason Rhoades and Paul McCarthy, figures who embody what Schimmel appreciates most about California artists, their fiercely independent and ambitious "can-do spirit", which he traces back to Ed Kienholz himself, one of a generation of artists who were going to write their own history and "were going to control not just what you see but how you see it".
"Ultimately", Schimmel says, Hauser Wirth & Schimmel "was the only opportunity to make something from the ground up in Los Angeles, with a community of artists with whom I felt completely comfortable. And I believe it's more than just the opportunities I'll have as a curator, but also the opportunity to bring in what I think are still woefully undervalued players in the artworld, which are art historians and curators. There's a bigger role for these people. Parties are nice; scholarship is the foundation. For me this is the great attraction. Ursula [Hauser] and Iwan have a real sense of the importance of serious scholarship – taking a more scientific and less a celebratory approach to the work."
It's not clear when or exactly where Hauser Wirth & Schimmel will open its doors. "Downtown is the focus," Schimmel told me. He has a clear idea of what he wants. A compound of buildings, of different spaces, indoor and outdoor, that afford some creative restrictions rather than the ever-looming tabula rasa of a 4,000sqm warehouse-cum-kunsthalle, plus some amenities that will make it a destination. "LA is very a funny place," Schimmel admits. "The classic Gertrude Stein line, 'There is no there there', really is true." So it will be important that visitors to the new space will value the time and, as Schimmel says, "give it over", because "if you put on a great show, tons of people will come", But, he continued, "you have to make it rich enough and comfortable enough", which most Angelenos know really distils down to two things – "Good parking. Good parking."
This article was first published in the November 2013 issue of ArtReview.
Does the artworld have a celebrity problem? The new c-word has undoubtedly captured the attention of the gossips and scribblers. Everyone from friends (Christian Viveros-Fauné in Newsweek) to frenemies (Adam Lindemann inThe New York Observer) has either whined and griped or shucked and grinned about those loveable cardboard cutouts from the entertainment industry getting all the airtime in 
the auction rooms and at the opening parties.
Whether it's Franco – yes, the Franco that's gracing the pages of this rag – or Leo – yes, the Leo whose charity auction broke multiple sales records – the stars that fill stadiums and screens increasingly appear to be (or are getting noticed as) the buyers and sellers of note for very expensive works 
of contemporary art.
But why is that a problem? Celebrities 
have money, and presumably a few have taste, or at least good advisers. For example, Jay Z, much in the news of late for his music-video- masquerading-as-performance-art-piece Picasso Baby, works with Jeanne Greenberg Rohatyn, who even the most cynical critics would have 
to accept as being something more than superficially knowledgeable about art.
So the artworld's newfound love and 
loathing of 'the celebrity' in its midst must have its roots in some other insecurity.
I remember seeing Keanu Reeves walking the halls of Art Basel Miami Beach back before 2008 and thinking, 'Who knew?' Of course I wondered what he might be buying. To a certain extent this is what being a celebrity is about today. Sociologist Frank Furedi writes that 'what is distinctive about today's celebrities is that they are promoted as both special and utterly ordinary'.
That ordinariness – pictures of celebs at the beach ('he's got thinning hair'), having lunch ('she's not vegan!'), buying groceries ('Twinkies?')
– cultivates an artificial intimacy, a feeling that we know them in the way that we know people with whom we have regular daily contact.
But to understand how this works in the artworld we have to recognise that the artworld is not like other professional worlds; it's one entirely bound up with the social existence of
its members. Evenings, weekends, vacations
– times that other professionals normally
spend away from 'work' – is often the most essential time for artworld professionals
to be at work. When Keanu (of course we're on 
a first-name basis; he's a celebrity!) is at ABMB, he's on his own time, buying or browsing; he's doing it, presumably, for himself and his own pleasure.
But I'm there working: writing, teaching, consulting, etc. Keanu's personal world and my professional world overlap,
 and because he's so familiar, because we're on
 a first-name basis (although he doesn't know this), I'd like to know what he's seen that he likes, or doesn't. Which dealers, in his opinion, have good work, or don't.
I want to know this in the same way that I want to know it from friends 
or colleagues or acquaintances that I run into at the fair. I respect their opinions enough to want to give five minutes of my time to hear them out. I don't take what they say as gospel. I take it as being of interest – potentially. It's a low bar, but it's a bar nevertheless. And Keanu 
hurdles it because, again, he's 
familiar. We're artificially intimate.
What exactly do I respect here, then? It's
 a kind of authority, the kind that comes with a familiarity with the intelligence, or lack thereof, of others. I listen to friends and colleagues and acquaintances because, over time, I have taken the measure of their intelligence. I accept that they speak with a certain authority.
And when they speak, they don't always do it directly 
to me. Sometimes I read what they write, or see what they paint or watch them on a stage in front of an audience, and I measure. This is why I can respect the authorial intelligence of someone I've never met (Furedi, for example), because the catalogue of deeds or words is great enough to grant them the respect that I can honestly and responsibly judge they deserve.
If the artworld has a problem, then, it's not with the celebrities themselves but with what they represent: the confusion of familiarity
 with authority. We cede authority to what we 
feel we know, and we feel we know it because 
it's ever-present to us, online, onscreen, in 
the checkout aisle, 'in the air'. The contrarian economist Tyler Cowen, in his new book Average Is Over, says that the next boom industry will 
be 'marketing'. Which is what? The business
of getting more of our 
attention more of the time; in other words, of making 
things familiar. Is there any wonder why celebrities of all stripes play such outsize roles 
in the marketing business? Marketing is a means to manufacture authority.
When the big celebrities, the ones that
 are famous as much for being famous as for anything else, move into your neighbourhood and start playing a bigger role in your world, you don't have a celebrity problem, you have an authority problem. Contemporary art today, on the whole, doesn't know how to authorise itself. It doesn't know what values it subscribes to or what good it is for. Absent of its own authority, art must look elsewhere to be taken seriously, and increasingly it appears it wants to be nothing more than familiar.
This article was first published in the November 2013 issue of ArtReview.
Children of Men (film still), 2006; dir. Alfonso Cuarón
Alfonso Cuarón's postapocalyptic Children
 of Men (2006) has something to tell us about the debate that is unfolding over the Detroit Institute of Arts's collection and whether it should – 'can' is a question for a bankruptcy judge – be sold to help pay the city of Detroit's creditors who include retired public employees, but also institutional investors such as hedge and pension funds that hold municipal bonds, as well as other financial stakeholders. And by this I mean that the film has something to say about the value 
of art, in both economic and other terms. Just what those 'other' terms are is the important question that Cuarón's movie raises.
I'm not thinking of its broad apocalyptic conceit, which finds that all the world's women have become barren, but just one of the less gruesome of the various descents into hell
– suicide as social policy, internment camps for refugees of failed states, etc – that follow from it: the 'Ark of the Arts', an enterprise spearheaded by one well-placed culture-loving but apparently humanity-loathing official, Nigel, who has taken it upon himself to collect a lifeboat of masterpieces in the hope of sparing them, and the grand history they stand for, from the civil implosion underway.
No ash-heap of history, then, for Picasso's Guernica (1937) or Michelangelo's David (1501–4) or – in a smirking bid at speculation – Banksy's stencilled image of two cops kissing. These feats of human creativity are deemed, by Nigel, to be greater than the populace that cannot be saved, and indeed is not being saved – is, in fact, protesting and rioting and bombing and being rounded up – just outside the Ark's redoubt at London's Battersea Power Station.
Nigel, who happens to be a cousin of the film's hero, Theo, comes off as an aloof 1percent-er (the dress: venture-capitalist casual; the digs: Tate Modernist) whose kid is so plugged into some videogame as to appear autistic. But then this is the model of Nigel's own disaffection, both with the decaying world around him and with his cousin's request for 'transit papers' for
a lover's brother – a fictional pretext, but one still about the potential for human kindness and contact that we're meant to take as anathema to the values embodied by the Ark and its pathetic inhabitants, human and aesthetic alike. Theo asks his cousin, "A hundred years from now there won't be one sad fuck to look at this. What keeps you going?" Nigel responds, "You know what it is Theo? I just don't think about it."
'Art', here, is at once greater and lesser than humanity. Which it is depends on what side of the table one is sitting. On Nigel's side, human suffering is small compared to the tragic grandeur of human achievement. Such feats are simply great, in principle, regardless of whether we're around to experience them. Art does not exist 'for us'; it exists 'for itself '. Nigel's denial
 is consistent with what most of us want to think art is: if you believe in art's transcendence, then you don't – indeed you can't – think about the 'sad fucks' who look at it.
On Theo's side, there's no point to it. Art is
 at best an epiphenomenon of human sociality, and when the latter is bent on burning itself 
to the ground, the former can only serve as fuel for the arsonist elect. Survival, not one's own, but the promise of another's – an improbable newborn's in the film's story – is the only kernel of humanity worth saving, because it's the only real kernel of humanity at all, and the David looks at once preening and paltry in comparison.
In the debate over the DIA's art collection, the Theos would want to see the art sold.
Yes, some of the money would go to pay less-than-savoury financial institutions that hold the notes on Detroit's debt (or insure it), but as much of it would go to the retired public employees – police, firefighters, teachers, etc – who depend upon
the city for their income and healthcare: in other words, real people with real needs. Roughly 50 percent of Detroit's debt, $9.2bn, is pension and associated obligations. And the collection could allegedly net upwards of $2bn all on its own. Recall that, in the film, Theo begins his quest out of self-interest –
he wants to get paid – but he does come around in the end.
The Nigels want to see the art remain with the city and protected by the museum. Their arguments run from utilitarian (stripping the museum of its masterpieces, a Van Gogh self-portrait for example, would damage the museum's ability to fully serve its public and attract visitors, which would no doubt contribute to, but more saliently would stand as a potent symbol of, the city's irremediable destitution) to idealist – the collection was formed in the public 'trust', which is inviolable regardless of any constituency's short- or even long-term interests.
And there are many arguments in between, most made in bad faith, to which the Theos and Nigels inevitably point in order to give their claims more purchase – eg, the unions have strong-armed pension contracts with little regard for the city's fiscal health; pension-fund calculations have long overestimated return projections; bondholders assumed Detroit was too big to fail and expected a state or even federal bailout; globalisation is to blame for Detroit's diminished tax base; a sale of the museum's collection will flood the market and so tank it; etc.
But at bottom, the value that one ascribes
to the art in question is either subordinate to the claims of the creditors – ie, is money – or it isn't. And chances are, if you're a creditor – not just in this scenario but in any – you're a Theo; if you're not, you're a Nigel.
This article was first published in the October 2013 issue of ArtReview.
Why does the artworld hate the art market today? For most, the fear and loathing begins and ends with the major auctions, which means the modern and contemporary art auctions that are held by the two (sometimes three, if you count Phillips) 'big houses'.
Yes, the accelerated art fair circuit makes many wince, but for sheer numbers, try this on: since the beginning of the year, the New York and London sales of these categories at Sotheby's and Christie's have seen more than $2.1 billion change hands – that is, assuming everyone pays up.
It's not the best-kept secret that an exceedingly small fraction of the big houses' clientele accounts for about 90 percent of that business. So when The Wall Street Journal or The New York Times or Barron's or Forbesruns articles with (hopeful?) headlines such as 'Stocks Tanked, Will the Art Market Follow?', what they're reporting on are the activities of, in relative terms, a handful of players.
And when critics such as Blake Gopnik call out the 'contemporary art bubble' and bloggers such as Felix Salmon say that 'prices' fetched at the big sales are 'quantitatively completely bonkers', they are also, by extension, talking about the activities and tastes of a small but very monied minority.
Ironically, in the wake of Occupy Wall Street and 'We are the 99%', that minority has found it has an 'image' problem. The entirety of the last US presidential election was contended on it. We know this, but we pay attention to the numbers anyway, mostly because we can't help taking them as an indication of the health of the market more broadly.
Just as we don't really want the stock market to 'tank', we don't really like entertaining the question of what happens when the rich stop buying art, because if the rich stop buying art, that means the rest of us have probably stopped buying other things, such as vacations or houses, and everything that goes with them.
Deep down we know that the art market is a trickle-down economy. When it's good at the top it can be either good or bad down the line; but when it's bad at the top, it's only bad all the way down. We're nostalgic for the days (though few of us were alive to see them) when collecting was an acceptable and accessible middle-class pastime, when well-read shrinks and doctors and lawyers were buying what they liked from the small coterie of artists and dealers that simply were the artworld. It was middle-class art at middle-class prices for middle-class people with middle-class taste.
But who out there is really banging the drum for middle-class art, which sounds as wince-worthy as the middle-class art fairs at which arriviste dealers wouldn't want to be caught dead selling it? What artist today would echo Matisse in wanting his work thought of like an armchair for the tired businessman?
Middle-class pricing in today's parlance means 'young' or 'emerging' or 'experimental' or 'alternative'. The pitch is that this work won't stay middle-class or doesn't even want to be. It has aspirations to importance and recognition, though preferably not merely posterity's. Only being 'elite' or 'other' will do.
None of this accords with middle-class taste, which is aspirational as well, but the importance and recognition it values are mostly seen in the mirror, when the trappings of one's self and surroundings look something like what one sees in the checkout magazines and on TV. (This is different than proposing that they are or could be the same, which is the hypothetical that Sofia Coppola's The Bling Ring (2013) entertainingly plays out.)
Call it kitsch if you like, but given the recent recuperations of that term, not-even-kitsch would be closer to the mark. Either way, its dominant value remains consumerist, which both art and the middle-class have always been.
Hatred of the market, then, is really just a symptom of this unbearability of not really being middle class, which is to say of being middle class and not believing it, but also of not really being 'elite' or 'other' either. About the market, members of those two groups either don't worry or don't care.
This article was first published in the September 2013 issue of ArtReview.
Re-Production, a group show of work by Arthur Ou, Marc Handelman, and Peter Rostovsky, is the third in a series of exhibitions mounted at P! ("p" exclamation) that have looked to update the conversation on art and simulation. Ou's black and white photographs, Double Light Leak 1 and Double Light Leak 2 (both 2010), take mechanical applications of paint – from a spray can and airbrush – as analogons of photography's own shadow castings. Marc Handelman, easily one of the best and smartest painters working today, offers Extrusion/Drift (2013), a large work that could easily be mistaken for a slab of marble, were it not for a reveal at the work's left edge, which shows both the unpainted primed canvas and the layer of retroreflective screen glass that gives the work its opalescence.
The connotations of luxury and illusion here are rich indeed, and this is where Peter Rostovsky comes in. He wants to toss a brick through the art market's cathedral windows – that is, through the semi-transparent glazing of market orthodoxy that casts all art in the light of originals and copies, fetishises the unique, and throws vast sums of money at securing scarcity as an elite privilege. Rostovsky's work to this point has taken the craft of painting as a given, while the images it presents, and the culture that encodes them, have been his subject of inquiry. In the wake of the Occupy movements, however, Rostovsky seems to have arrived at a conclusion that those images can no longer be separated from what paintings actually are: products, with a limited audience – not the 99%.
So no more 'original' paintings. Instead, Rostovsky has taken to 'painting' in Photoshop with the use of a Wacom tablet. Witness Night Blossoms (2012), a vase of flowers as seen through night-vision goggles (or a Matrix filter on Instagram, if there is such a thing). The image file is free to download. In the gallery, the works – there are two identical iterations – appear as Duratrans transparencies in custom-made LED lightboxes, and the edition of these, just like a download, is unlimited.
The philosophy behind the approach, essentially mass distribution minus kitsch, is presented in a dialogue that Rostovsky wrote to accompany the exhibition. In it there is much debate about the value of art versus the value of our experience of it, but the key moment comes when Rostovsky's avatar asks, 'Did your record sleeves not function like art? Weren't they holy shrines that you studied and revered and that connected you to a community? They weren't limited edition.' As a demonstration, Rostovsky includes New Order's 1983 LP Power, Corruption & Lies, whose sleeve art, designed by Peter Saville, reproduces Henri Fantin-Latour's A Basket of Roses.
It would be a compelling model were it not for one thing: a dependency upon that cascade of neurotransmission we call adolescence. We're all fetishists at fifteen. Continuing to be so throughout our lives breeds the kind of covetousness that begat 2008, and Occupy, in the first place.
This article originally appeared in the Summer 2013 issue of ArtReview.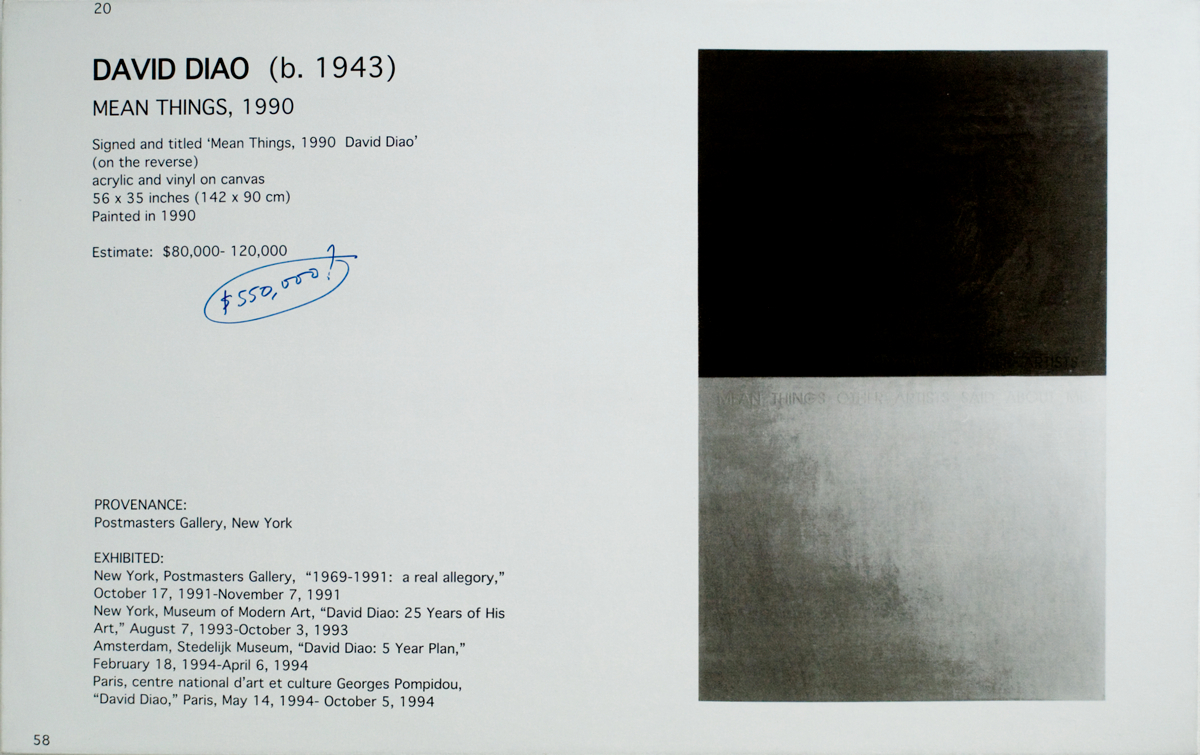 David Diao, Auction Record, (2011)
One imagines David Diao's not-quite retrospective at Postmasters, the gallery's last in its Chelsea space, accompanied by a catalogue essay titled 'Painting and the Task of Melancholy'. Academic types, of which Diao is one, will recognize that title as a play on art historian Yves-Alain Bois's now canonic 1986 essay, where 'mourning' stands in place of 'melancholy' and in which painting's 'death', of that of it as a coherent medium, has been assumed. Those same types will go racking their heads for Freud's distinction between the two concepts—hint: in mourning, one works through the loss of something; in melancholy, one fails to work through this loss because one doesn't know, is not conscious of, what it is that was really lost. In mourning we grieve, but we get over it, by working through the grief; in melancholy, we can't work through it, so we circle it, over and over and over again.
Diao has been active since the late sixties, when he gained recognition for the kind of rigorous procedural abstraction that Robert Ryman (a hero of Bois's) had staked out earlier in the decade. But Barnett Newman is the artist's hero, and here homage is paid by the recent Spine 1 (2013), a screen print of the cracked spine of a Newman catalogue that has been in the artist's personal library for decades—it runs down the center of the painting's large acrylic field just like one of Newman's zips. Newman appears again in Twice Hammered (2011), where one finds the reproduction of Diao's earlier Barnett Newman: The Paintings (1990; for which Diao presents all of Newman's paintings at small scale and reduced to the shapes of their canvases) next to that work's accompanying catalogue entry from a May 2005 Christie's Hong Kong 20th Century Chinese and Asian Contemporary Art sale. The work was estimated at $40,000-60,000 (HKD) and 'hammered' down at $7000, at least that is what is penciled in on the page. 'Ouch', one thinks, but then remembers the exchange rate; and in 2005, $7000 USD would net one roughly $54,500 HKD, well within the estimate, and so, depending upon your perspective, either a tragedy or a steal.
It is exactly this question of worth and value—not just what Diao's paintings are worth on the market (see Sales, 1991, which catalogues the artist's auction record), nor how they are valued by one of the art world's reigning investment banks (see Double Rejection 1 (MoMA Boardroom), 2012, which reproduces a work that no longer hangs in the museum's innermost sanctum), but also how the artist conceives of his own value in relationship to the history he himself values (see Salon 2, 2011, which juxtaposes a photograph of Diao reclining in a Barcelona chair at Philip Johnson's Glass House with one of Philip Johnson himself, Andy Warhol, Robert A. M. Stern, and others in that same exact spot)—that is at the center of Diao's practice as a painter. One would even say he circles it, over and over and over. Melancholics of this order are sometimes tough to bear. But after a time—forty years, say—their endurance can only be called heroic.
From ArtReview May 2013
Julian Schnabel, The Patients and the Doctors, 1978; installation at Oko, 2013
It's hard to divorce Julian Schnabel from context. Indeed context is both the curse and blessing that has come to define the artist's work and career over the last 35 years. That barrel chest! That hair! Those pajamas! Celeb friends! Montauk! West Village palazzo! Great films! Mary Boone! That hair! Those paintings… Here the exclamation tends to either the terrible or the wonderful, but rarely anything in between.
What was it about those paintings that made them so infamous at that moment in New York during the late 1970s and early 1980s when, as so many artists and their critics have noted, the tectonic plates of culture (pun intended) felt like they were cracking up to swallow whole the gains (or losses) of the prior 20 years, not to mention the historical memory of the pre-Second World War avant-gardes? Wasn't painting dead? Hadn't its inherent humanism and its private language of subjective investment been shown to be obsolete if not morally bankrupt? And who is this asshole with the hair that isn't reading Craig Owens and getting in line like everyone else?
A few decades on and this language of critique does feel, for better or worse, like it has run out of steam. What better time then to put up some of those notorious early paintings, direct from The Painter's private collection. And who better to organise the affair than Alison Gingeras, house curator to Amalia Dayan and Daniella Luxembourg's uptown shop, which has underwritten the East Village storefront, Oko, where one work from each of Schnabel's early series – St Sebastian – Born in 1951 (1975-9); The Patients and the Doctors (1978); Mutant King (1981); Abstract Painting on Blue Velvet (1980) – is on view in two-week stints. Context strikes again.
But oh, that painting! Dumb luck – or, because the rhetoric matters in such cases, 'divine providence' – gave to us to see The Patients and the Doctors, one of the notorious plate paintings that Schnabel exhibited in his first solo show at Mary Boone's Soho space in 1979. It's big. So big in Oko's little space that, like some aesthetic bear hug, you can't break away from it. Surprisingly, though, it's less gestural, less expressionist and muscular than all of the history book deflations would have one believe. Breaking the plates and placing all of those ceramic shards must have been a chore. The archaeological implications are not unwarranted, but this is backyard archaeology, the way a twelve-year-old might do it (didn't you want to play with something called 'Bondo' when you were a kid?). The figures are more drawn than painted, clumsily sketched in over the work's jagged 3-D surface, as if St. Sebastian's body from the prior painting had been jettisoned but the scars retained. And, finally, that play between two-dimensions and three, specifically where one of those figures overlaps the work's two major levels, is facile.
And yet, there's all that context, equally embedded in this painting's surface, equally part of its work, be it blessing or curse.
Published in ArtReview, April 2013
Hilary Berseth, Programmed Hive #7 (2008)
Drawing and sculpture share an inherent affinity, which on first glance has to do with their capacities for capturing space and holding it. Julio González synthesised this affinity in a single, and singular, practice. Artists such as Richard Serra cold roll it. Hilary Berseth is peeling back a fold of that affinity, perhaps by de-synthesising, or decomposing it, and showing us new distillations and combinations, and how such an affinity may not be 'elective' after all. The electrochemical sculptures, in which copper and nickel grow tumorous organo-crystalline forms at their edges, hook sculpture's hard, dead materials – in Berseth's hands: metal, plaster, concrete – back up to its élan vital. Think Brancusi's Bird in Space (1923) for an age whose main metaphor is no longer the machine but the network, the lattice, and their infinite complexities. There is order in this chaos, however, as witnessed in Berseth's early Programmed Hives (2008), wherein honeycombs are built – by the bees no less! – into complex geometries, at once regular and irregular. Berseth's drawings would then almost seem to belong to another artist entirely, until one takes note of their own complex aggregations: the image of a stairwell overlaid with one of a retina, replete with the halo of its optic disc (that is presumably doing the viewing); another of a diorama overlaid by the view one would see from its side of things. And then there are the mathematical models: perfect renderings in graphite on paper that are then backed by steel plating and mounted in three dimensions—model and copy in one. 'To draw in space,' is how Gonzalez described 'this new art' forged from 'points in the infinite' (he was speaking of stellar constellations). Berseth knows what he means.

Published in ArtReview, March 2013
Terry Smith's credentials when it comes to thinking anything that comes after the modifier 'contemporary' are second to none.  With a number of articles in heavy-hitting, establishment journals, and a suite of books that he has either authored or edited, Smith has, of late, staked good claim to being the foremost surveyor of our contemporaneity, at least as it appears within the territories, occupied and otherwise, of visual art.
When Smith turns his mind to 'thinking contemporary curating', then, as he has in this inaugural volume for Independent Curators International's new series, Perspectives in Curating, interested parties ­– foremost curators – but really anyone with a curiosity about contemporaneity itself, or in Smith's take on it, would do well to pay attention.  After all, 'curating', whatever this might be, however it might be thought, is a staple practice of what we might as well call the 'cultural logic' of contemporaneity. The past thirty years have seen increasing emphasis and pressure placed on the practice and language of curating, and the past ten have pushed this practice and language to the point of oblivion. So Smith's asking 'What is contemporary curatorial thought?' belies more than just a desire to survey the state of curating today (which, it should be said, Smith does masterfully); it is an attempt on Smith's part to theorize 'contemporaneity' itself.
The problem is, as much as he might like to be, Smith is not emerging as the thinker who will do for 'contemporaneity' what Frederic Jameson did for 'postmodernism' (or 'modernism' for that matter). It's not enough for Smith to peg his favoured concept as the 'the multiple and various ways of being in time today, contemporaneously', however quasi-Heideggarian this may sound.
Smith is better as an historian of contemporary art – that is, to say it again, as a 'surveyor'. In that role, he has gamely named three major 'currents' in the art of the recent past: 'remodernist, retro-sensationalist, and spectacularist' (aka Anglo-American or auction-house contemporary) art is one, the art of 'transnational transitionality' (aka post-colonial biennial art) is another, and the rise of a 'small-scale, interactive, DIY art' (basically everything else) is the last.  Take them or leave them, these are useful ways of apprehending the expanding, unruly garden of contemporary artistic practice. And because this is a book on curtaing, each of these currents gets its patron curator: Kirk Vernadoe, Okwui Enwezor, and Nicolas Bourriaud (though Smith never addresses how 'relational aesthetics', a favorite of both currents one and two, lines-up with the DIY phenomenon that comprises current three). Smith's ultimate point here is to note that what these curators (and the many others he mentions) do comes 'before' what critics and historians (like him) do.  Curators present art, and give that presentation some kind of 'shape' through which the art can come to be understood, and then judged, categorized, and periodized by others.
Yet all of the ways that Smith understands the practice of art and curating, let alone of writing history and criticism, either confuse the period of 'contemporaneity' with its temporality or disregard it altogether. It's as if one can 'think [the] contemporary' or 'think curating' but can't think the two together. For example, when Smith offers this nicely reduced way of describing what curating should do, which is 'to find the figure that is inherent in that which is to be exhibited, a configuration that will shape the flow of movement through the exhibition, a pathway that will carry the spectator's experience, until we reach the reconfiguration – the exhibitionary act – that, in doing these things, opens art to be seen,' what makes this act of curating particularly, or even definitively, 'contemporary'? And when Smith distills his curatorial prescriptions into the following slogans: 'Exhibit art's work. Renounce reticence. Curate reflexively. Build research capacity. Articulate curatorial thinking. Archive the achievements. Reinvent exhibition formats. Turn the exhibitionary complex. Proliferate alternative exhibitionary venues. Activate infrastructure. Embrace spectatorship. Curate contemporaneity in art and society – past, present, and to come – critically,' he begs the very question of contemporaneity (as period? as temporality?) that is meant to ground his slogans, indeed his book, deep within the stakes of curatorial thought itself.
Published in ArtReview, January/February 2013